The holiday residence Altitude Zéro
The Mediterranean, the Iles d'Or, the Sand Beach rocks and pines, this is the environment of your holidays in the residences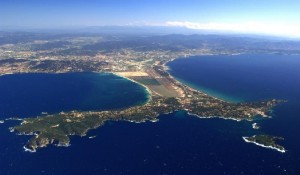 We are located near the sea and sandy beaches, in front the Porquerolles and Port-Cros islands, on the Peninsula of Giens in Hyères-les-Palmiers, it's the most sunny and southern point of the French Riviera
The sand beach, maintened each day is softly, regularly inclined and without any danger to the children
Quiet, rest, relaxation, the holiday residence Altitude Zéro, it is also the paradise for children and sports.
A waterfront studio available for rent all year round
The studio is full south side sea and located on the ground floor of the residence. With a surface of 20 m2, it can accommodate 4 people. The studio also has a terrace of 20 m2 facing the sea with outdoor furniture (table, umbrella, deckchairs …). For your convenience, the studio also has air conditioning and free WI-FI. (table, parasol, deckchairs).

More information on studio 5 >>
Your activities close to the residence
The possibilities of activities will not be lacking during your stay: for the sportsmen: dive, catamaran, kayak, windsurf, paddle, kite surf, karting but also the visit of the most beautiful places of hyères and its region: the peninsula of Giens of course, but also the swamp of Hyères, the medieval districts of the city. You will also have the opportunity to go on one of the Iles d'Or: Porquerolles, Port-Cros, which will not miss to surprise you so much the wealth ( marine and ground florae) are remarkable.

More >>

Testimonials
Pour les fans de planche et même débutants, très bon spots que ce soit du côté de l'almanarre ou juste au pied de la résidence à la bergerie, on a toujours un minimum de brise (les thermiques) .
Mike, 28 ans, de Bordeaux.
Superbes vacances, la presqu'île de Giens, site classé et protégé, est magnigique que ce soit pour ses plages ou pour aller sur le sentier du littoral.
Jeff, 58 ans, de Lille.
C'était très agréable, pas de voiture à prendre pour aller à la mer, plus de stress, ici le temps s'arrête, que de souvenirs...
Anne, 30 ans, de Paris.
Nous avons passé des vacances formidables, les enfants ont profité tous les jours de la baignade et de la mer à 2 pas de notre appartement. La région est formidable,  nous avons visité les salins d'Hyères, et avons passé également de bonnes soirée sur le port ...
Virginia, 29 ans, Valenciennes.